Germany added the most new cases since May, while the head of the French Health Agency Jerome Salomon said the situation in his country is worsening. Travel stocks slumped after the U.K. government said it will require travelers from France, the Netherlands and four other countries to quarantine.
Infections rose in Spain, prompting warnings from business leaders about the cost to the economy if new lockdown measures have to be imposed, and an Austrian government minister called the surge in cases 'alarming.' In New Zealand, Prime Minister Jacinda Ardern extended the lockdown in Auckland.
Democratic nominee Joe Biden said U.S. governors should require masks for three months, an approach he said would save more than 40,000 lives, though President Donald Trump said this would be unenforceable. More than a third of Americans surveyed said they won't get vaccinated when a shot is available.
Key Developments:
Subscribe to a daily update on the virus from Bloomberg's Prognosis team here. Click CVID on the terminal for global data on coronavirus cases and deaths.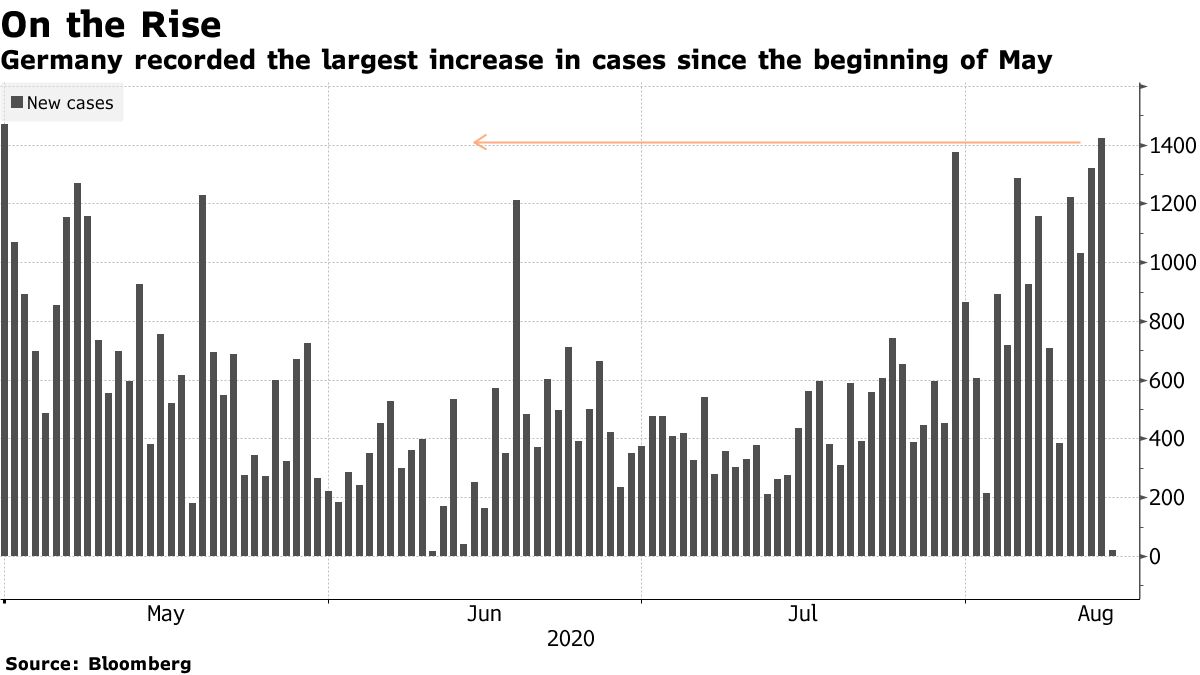 India's Home Minister Tests Negative (7:45 a.m. NY)
India's Home Minister Amit Shah, a close aide of Prime Minister Narendra Modi, said he had tested negative for coronavirus. India has the most confirmed cases after the U.S. and Brazil — and one of the world's fastest growing epidemics, adding more than 50,000 cases each day.
Several Indian ministers in Modi's cabinet have tested positive for Covid-19 in the past few days, underscoring the spread of the virus in the world's second most populous nation.
Berlin's Emergency Hospital Has 1,000 Staff on Call (7:30 a.m. NY)
Berlin's emergency coronavirus hospital in the grounds of the city's exhibition center has taken no patients since opening in May, but is ready with about 1,000 staff on call, according to its director, Wulf Pankow.
"We're trying to think ahead, in case we have both a rise in coronavirus infections and an influenza outbreak as the year wears on and not enough beds in city hospitals," Pankow told reporters Friday during a tour of the facility. About 15% of the city's intensive-care beds are occupied by coronavirus patients, according to the city government.
The makeshift, 488-bed hospital was built in four weeks and could double bed capacity if needed, Pankow said. Berlin has recorded around 10,000 coronavirus infections and just over 200 fatalities, according to the RKI public health institute.
Philippines Bans Chicken Imports from Brazil (7:10 a.m. NY)
The Philippines has banned poultry imports from Brazil after China said surface sample of chicken wings from the Latin American country tested positive for coronavirus. The Philippines also ordered workers in the meat and poultry industry to report "any unusual" sickness and observe safety measures. Brazil is the Southeast Asian nation's third-largest source of chicken imports as of July.
Austria Issues Travel Warning for Croatia (7 a.m. NY)
Austria is warning against travel to Croatia, a major holiday destination and home country of many Austrian immigrants, effective Aug. 17, the foreign ministry said on Twitter. The highest-level travel warning means that the government advises Austrians not to travel to the country, and urges those still there to return to Austria as soon as possible, according to the ministry.
Austria already has a travel warning for most of the former Yugoslavian countries, but had so far left off fellow European Union member states Croatia and Slovenia.
The country reported 282 new coronavirus cases on Friday, the highest daily increase since April 10, a development Health Minister Rudolf Anschober called "alarming." The 7-day average, which has been more than 100 for about a month, rose to 148, driven by cases linked to Austrians returning from trips from the former Yugoslavia.
A Third of Americans Say They Won't Get Vaccinated: Poll (6:50 a.m. NY)
More than a third of Americans surveyed, about 35%, say they won't get vaccinated when a covid-19 vaccine is available, according to an NPR/PBS NewsHour/Marist poll. The survey of 1,261 adults was conducted August 3 through August 11.
The poll also showed Joe Biden's lead over President Donald Trump had expanded to double-digits.
Vietnam May Buy Russian Vaccine (6:35 a.m. NY)
Vietnam may order up to 150 million doses of Russia's coronavirus vaccine, Tuoi Tre newspaper reported, citing acting health minister Nguyen Thanh Long. Some of these will be donated by Russia and the rest paid for by Vietnam, the paper said. Vietnam reported 18 new infections on Friday, including 17 locally-transmitted cases and one imported, according to the health ministry.
Russia has brushed aside international concerns about the safety of its vaccine — the world's first — and plans to start mass inoculation this month before clinical testing is completed. On Thursday, the Philippines said it would join the final phase of clinical trial for the vaccine starting October and President Rodrigo Duterte expects to be inoculated by May.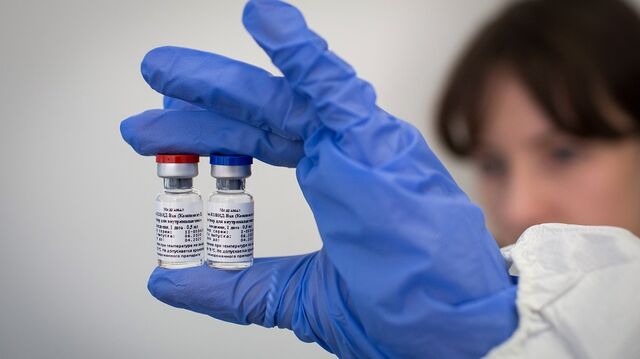 EU to Sign Vaccine Deal With AstraZeneca (6:12 a.m. NY)
The EU Commission is set to sign a deal to buy 300 million doses of AstraZeneca's Covid-19 vaccine on behalf of EU member states, with an option to purchase 100 million more, once the vaccine is proven to be safe and effective.
Earlier, the U.K. signed two more deals to purchase doses of experimental vaccines. The government ordered 60 million doses of Novavax's late-stage experimental vaccine, which may be available as early as the first quarter of 2021, the U.S. biotechnology company said. Johnson & Johnson's Janssen unit said it got a U.K. order for 30 million doses. The latest agreements bring the total number of potential vaccine doses secured by the U.K. to more than 300 million.
Singapore May Consider Traveler Green Lanes (5:20 p.m. HK)
Singapore could consider opening its borders to tourists in an effort to attract more traffic into its once bustling airport. The city state could unilaterally allow passengers from certain countries or regions that have kept virus cases at similar or lower levels than Singapore, Ong Ye Kung, the newly appointed transport minister, said Friday in a speech to his staff, without naming any nations.
The current 14-day quarantine requirement is a "major deterrent" to travelers and the country may have to consider replacing it with a rigorous testing regime, he said.
Euro Area Sees Record Drop in Employment (5:10 p.m. HK)
The currency bloc shed 2.8% of its jobs in the three months through June when the most stringent measures to contain the spread of the virus were in place. That means about half of the 12 million jobs created since the region's debt crisis have been wiped out, with more losses likely in the coming quarters.
Generous furlough programs across the 19-nation bloc have so far contained the fallout from a record economic contraction on the labor market, and kept the rise in unemployment modest compared to the U.S. Governments are now facing tough choices on how to wind down those programs, balancing ballooning debt against the consequences of massive job losses for the economy.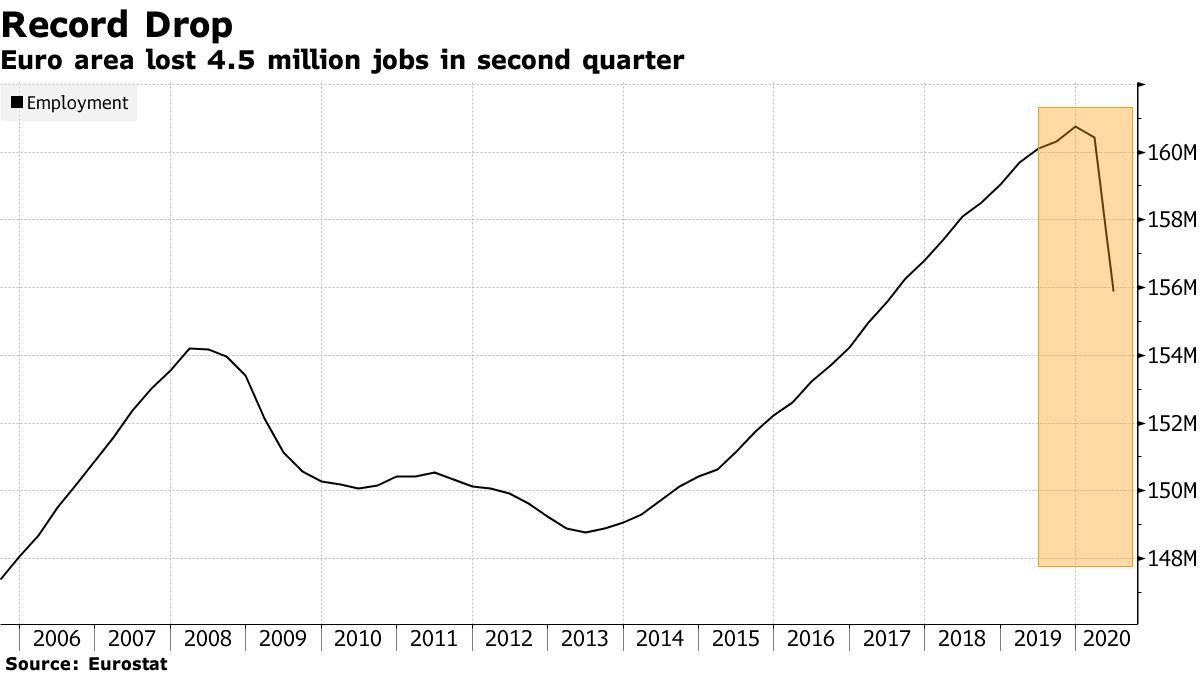 Hong Kong Cuts Growth Forecast to Record Low (5 p.m. HK)
Hong Kong's government cut its 2020 forecast for the city's economy to a record low range of -6% to -8% amid the global coronavirus pandemic and heightening trade tensions. The latest forecast is worse than the prior projection of -4% to -7%.
The coronavirus outbreak in the Asian financial hub is showing more signs of coming under control. The city reported 46 new local cases on Friday, with a fifth of these — 9 — of unknown origins. The lower number of untraceable infections reflects that the once widespread hidden transmission chains in the community are gradually tapering off.
For 12 consecutive days, Hong Kong has seen less than 100 local virus cases daily, a level far below its peak of 145 local infections reached in the end of July.
Poland Reports Second-Highest Daily Growth in Cases (4:40 p.m. HK)
Poland's Covid-19 infections rose by 825 to 55,312. Cases were up by more than 800 for a second day in a row after growth in infections slowed to 551 earlier this week.
Spain's Businesses Leaders Fear Second Lockdown (4:27 p.m. HK)
The number of Covid-19 infections in Spain continued to rise, prompting warnings from business leaders about the cost to the economy if new lockdown measures have to be imposed.
New cases jumped by 2,935 on Thursday compared with 1,690 in the previous 24-hour period, the health ministry said late Thursday. It was the highest tally since at least May 25 when the government changed its methodology for reporting data.
CEOE, Spain's main business lobby, on Thursday warned that any second lockdown would have catastrophic consequences and urged the government to promote the use of a new app developed by the Economy Ministry to trace cases of Covid-19.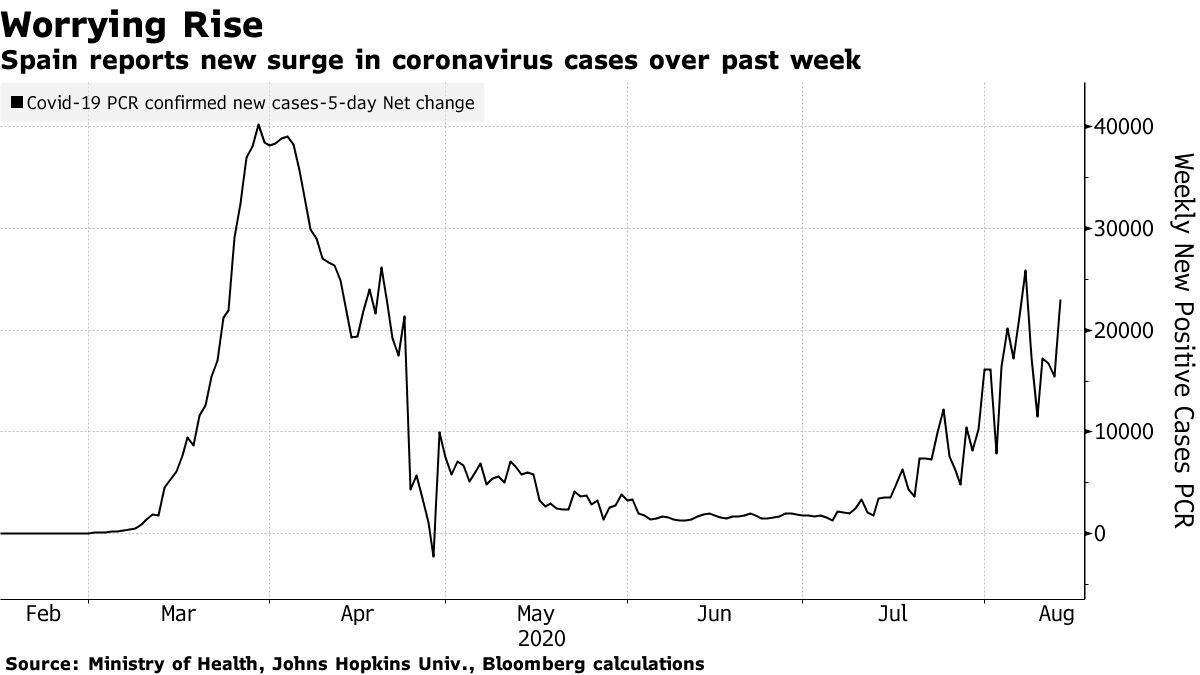 Most NHS Leaders Lack Faith in U.K. Testing Strategy (4:20 p.m. HK)
The leaders of just one in five National Health Service trusts said the U.K. government has taken the correct approach to coronavirus testing so far, according to a survey by NHS Providers.
In addition, two thirds of respondents said the government's testing strategy would not meet the needs of their users over the next three months. The trusts are the organizational units of the country's health service.
The report comes as the government restarts trials of its coronavirus-tracing app, after a previous effort was abandoned. Identifying people who may have been infected and isolating them without locking down the whole country is crucial to the government's efforts to restart the economy.
Nigeria's Jobless Rate Climbs (4:10 p.m. HK)
Joblessness in Nigeria surged to the highest in at least a decade in the second quarter as the pandemic made it even tougher for output growth in Africa's largest economy to keep up with its fast-expanding population. The unemployment rate rose to 27.1%, compared with 23.1% in the third quarter of 2018, which was the last period the agency released labor-force statistics.
The unemployment rate in Africa's biggest oil producer more than doubled over the last four years as the nation struggled to recover from a contraction in 2016. The West African economy was slowly gaining traction from the previous oil-price crash when coronavirus struck, causing its crude receipts to plummet again.
Germany Set for Long Recovery After Initial Bounce (4 p.m. HK)
Germany's economy is expected to expand strongly in the third quarter, but is set for a lengthy recovery process, according to a government report. Gross domestic product will "recover strongly" in the third quarter after an historic collapse in the months between April and June, the economy ministry said in the monthly report.
"The further economic upturn depends to a large extent on the course of the pandemic at home and abroad," the ministry said, adding that many of the country's trading partners are still heavily impacted by the pandemic.
Earlier, the country reported the highest number of new Covid-19 cases in about 3 1/2 months, with daily infections above 1,000 for four straight days. There were 1,422 new cases in the 24 hours through Friday morning, up from 1,319 the previous day and bringing the total to 222,281, according to data from Johns Hopkins University. The infection rate stayed below the key threshold of 1.0, the latest report from the RKI public health institute showed.
Indonesia Forecasts Recovery (3:50 p.m. HK)
Indonesia set its target for economic growth next year at 4.5%-5.5%, President Joko Widodo said in his annual budget speech Friday, forecasting a solid recovery from the coronavirus pandemic that has decimated Southeast Asia's largest economy this year. The fiscal deficit will narrow to 5.5% of gross domestic product in 2021, from 6.34% expected this year, Widodo said Friday in Jakarta.
The government is targeting record state spending for next year as it continues with its efforts to combat the economic impact of the coronavirus pandemic.
European Travel Stocks Fall After New U.K. Travel Curbs (3:40 p.m. HK)
European travel stocks fell, with airlines EasyJet and IAG both down at least 4%, after the U.K. government announced a 14-day quarantine on travelers returning from a number of additional countries, including France, the Netherlands and Malta. In the last month, Britain has reimposed quarantines on other countries including Spain, the Bahamas and Belgium.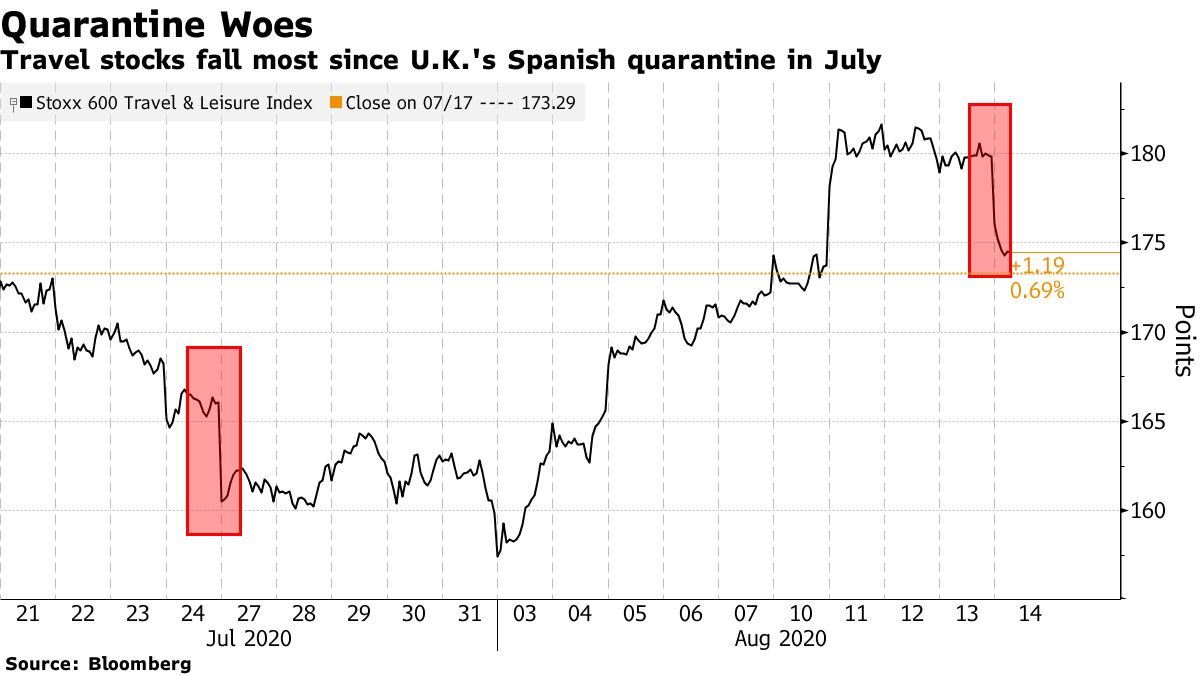 Separately, Prime Minister Boris Johnson said England can resume the paused easing of lockdown rules, with theaters, casinos and beauty parlors allowed to reopen — but warned there will be tougher penalties for people who break social-distancing restrictions.
— With assistance by Adveith Nair, Sheldon Reback, Jinshan Hong, Boris Groendahl, and Iain Rogers